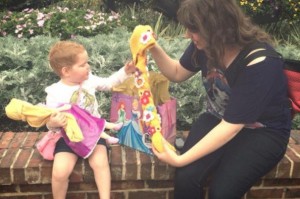 Samantha Mutschler (25) from Orlando, Florida is on a mission: To brighten the life of a child with cancer, if even for one moment…
With her charity, named Unraveled by Samantha Dawn, Samantha crochets very special hats for kids with cancer, in the shape of the hair of Disney princesses with beautiful curls and braids and flowers, in the shape of minions, Super Mario's hat, Scooby Doo, Cars, Minnie Mouse – you name it, she made it. So far she has created over 160 hats that have been delivered (by mail, but quite a few personally) to several kids in the United States, but also mailed overseas to kids in Brazil, Australia, New Zealand and the Netherlands. I had an online interview with her: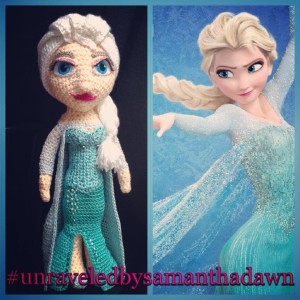 How and why did you start crocheting, and how did you end up making these wonderful hats for kids with cancer?
I was already involved with children with cancer after a family friend (aged 12) was diagnosed with osteosarcoma back in 2010. I made her a fleece blanket and from there sent out a note to my family and friends about supporting me in my venture to make blankets for children with cancer at our local hospital. After a couple years of making blankets I was shopping at Joann Fabrics and 'randomly' (not random – completely divine intervention) looked at my mom and said "I want to learn to crochet." So I bought a book, taught myself the stitches, bought patterns and practiced on those and within 8 months I was writing my own patterns – again divine intervention, because I've been told the extent of what I do and my design is uncommon without formal training. It started by sending the hats with the blankets I was already sending out. By this time I was also reaching out to childhood cancer families through Facebook to see if they wanted a blanket and hat, and then one day a mom from New York – because of the power of social media and the kids sharing when they get packages – asked if her son qualified for my hat program and the hats exploded from there. My first international hat was to Australia. Eventually the blanket requests died down and I started focusing fully on hats.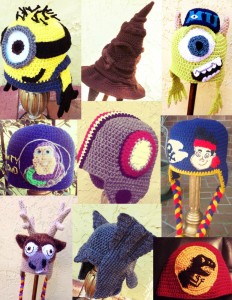 How do you finance all this? Do you have a 'day job' as well?
My mom has a small daycare in our home. By working for her, helping out with the kids and still getting to crochet, I am afforded the budget to pay for what I need and the time to work on what means the most to me. I couldn't do it without my Mom's support. I've also had a very close family friend who has supported me from the get go – even during her hard times she has donated to my cause and for that I am forever grateful. The website Go Fund Me has helped in supplying some support in getting some of the extras I like to send as well.
How many hats have you made so far?
I just finished my 165th hat – starting my 166th today… So since 2012- just 3 short years I've made that many hats and am now adding dolls and character toys to the mix. I was always going to the store to buy some stuffed animal of some sort to send with the hat, until I realized that I should be crocheting the stuffed animal or doll, not buying them.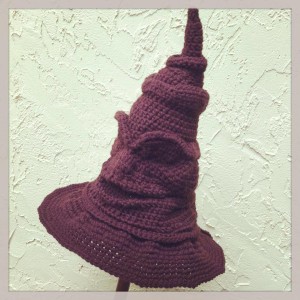 What is your favorite design? And what was the most complicated one?
My most favorite design is probably when I get a new request that I've never attempted… I love a challenge – my next hat is going to be a Brunette Elsa wig with flowers. The girl loves Elsa, but has brunette hair and also loved the look of the flowers like the Rapunzel wig – so I am going to make the flowers on her Brunette Elsa wig blue and white so they look like they are frozen in her hair.
The most complicated one… hmm… maybe the Harry Potter Sorting Hat. It took a couple weeks to get the design concept down with the facial features in the hat. It is by far my favorite hat that I have completed. The young boy from New Zealand who received it, Ethan, would put his hand it it and make it talk too. Unfortunately, Ethan passed away, and his mom told me the Sorting Hat was on display at his funeral…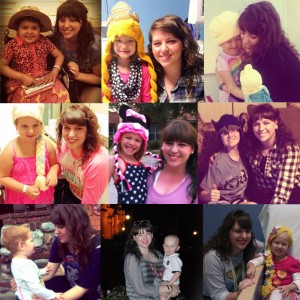 I noticed you have delivered some of your hats personally to the kids. Do you have any special memories of those deliveries?
I have had the honor of meeting a fair amount of kids because of living so close to Disney. I've also been blessed enough to meet kids in Georgia, South Carolina, and North Carolina on the way home from visiting my grandparents up in North Carolina around Christmas time. Each meeting holds a special moment in my heart… From watching Disney's Wishes Fireworks show with a little girl sitting on my shoulders who said: "Mommy, my wish for Disney came true", or a little boy falling asleep in my arms on the boat ride back to the parking lot, to playing on the couch with a little girl in Georgia (who I already knew was on hospice…). They along with countless others all hold incredible memories – all of which bring me joy and on occasion great sadness. Something as simple as someone dying on a TV show can spark a memory of one of the kids I've lost – I admit I have cried myself to sleep reliving all the memories. When it happens, it's like I can hear them talking to me all over again, as if they are right there with me. Knowing they are in Heaven softens the hurt, but sometimes its just so overwhelming it can't be controlled.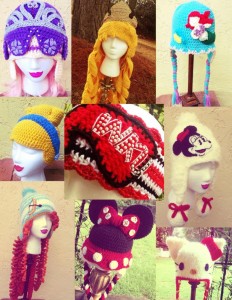 What kind of hat do you enjoy making over and over again?
I enjoy repeating the Rapunzel one – its a lot of work but so fun to play with different colors for the flowers and to try and make each one a little unique. I want these kids to feel special so I try to crystallize the different ones to play up the colors differently on each hat.
What are your current goals with Unraveled?
To get my papers filed in the next few days for a non-profit status. It has been crazy busy trying to figure everything out and wording it correctly, and still getting packages with hats sent out… A goal of mine is to see this explode to something much bigger than me – these kids are the reason for the joy in my life. Even through some difficult times last year in my life, a constant for me was making the hats and knowing whatever I was going through was so minuscule compared to what these kids go through…
Thank you very much for this interview, Samantha! To donate to this great cause, click here. For more information and to see more of the beautiful hats and toys Samantha makes, click here for her Facebook page.
—————————————————–
Liked this post? Don't forget to like The Curious Butterfly on Facebook too! Thank you!