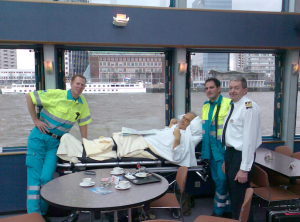 In 2007 the Dutch Kees Veldboer started the Ambulance Wish Foundation (Stichting Ambulance Wens). For his work as an ambulance driver, he had to transport a former sailor who was terminally ill. Kees had extra time, so he decided to do a detour along the rivers in Vlaardingen. Kees and the sailor started chatting and Kees heard that the man in the back of the ambulance had one final wish: to be on a ship again. A wish that was sheer impossible, since the man would be bedridden until it was his time to go. Kees couldn't realise that wish at that moment, but after he dropped the man off where he needed to go, he started phoning around and found a company that could do roundtrips by boat that could have an ambulance stretcher. A few days later, Kees borrowed an ambulance from his work and took the man out on a final boattrip. He saw how much joy it gave the sailor to be out on the water again, for one last time.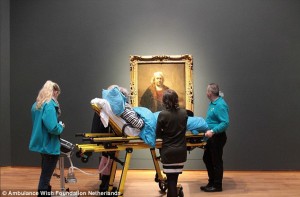 After this, Kees realised that there must be more terminally ill people like this former sailor who had a final wish, but could not realise it due to being unable to move around without proper equipment, like on a proper and comfortable stretcher, in an ambulance. A final visit to a museum, a last time to the beach, seeing your house for the last time. That should change, so he created the Ambulance Wish Foundation.
Nowadays the Foundation has around 200 volunteers and realised over 6000 wishes. They have 5 ambulances that almost all go out daily to fulfill people's final wishes. With comfortable stretchers, the terminally ill patients are transported in the vehicles with special darkened windows, so the patient has privacy while being able to look outside.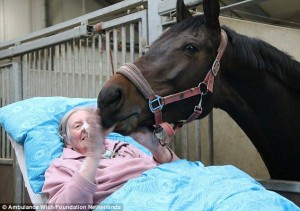 Several wishes have taken people  to museums, musicals, to see their pets, and even to the special holiday home the Foundation has created for terminally ill patients. Soccer fans have been taken to their favorite team, and last weekend one of them, a 15-year old boy with leukemia, even saw his team win the Dutch Soccer League. Some of the final wishes were bittersweet as well, where patients went to the funeral of their loved ones, or say goodbye to their spouse or child who is also bedridden and terminally ill.
Once there was a woman who would love to attend her granddaughter's wedding, but she was so ill, that her doctors could not give her the all clear to go. On the morning of the wedding, the Foundation got a phone call, if they could maybe still bring the woman to the wedding. They did and the woman said after the wedding, 'I still don't quite know how to comprehend all of this.' She fell asleep at the end of that day, and didn't wake up anymore… I think this sums it all up what great work this Foundation does, to bring a final bit of joy in people's last days.
A video has been made by the Ambulance Wish Foundation in English, and you can see it here.
To donate to 'Stichting Ambulance Wens', you can click here. (It's in Dutch, but I'm sure a translate-website will be able to help you figure it out. If not: please contact me and I'll send you the details.)
—————————————————–
Liked this post? Don't forget to like The Curious Butterfly on Facebook too! Thank you!