You may have seen it already, the #finddancingman search has gotten its happy end! On Thursday, March 5th, somebody posted a photo about a dancing man online (I don't want to post the picture again, it breaks my heart every time I see it), with the bullying text next to it: 'Spotted this specimen trying to dance the other week. He stopped when he saw us laughing'. But the internet didn't laugh along with the OP. Well, the post did go viral, but not the way the poster had hoped. Several people showed their support for the man, saying 'Everybody has the right to dance freely' and 'Everyone is beautiful and a rockstar in their own way'.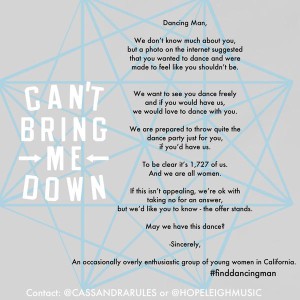 Also Cassandra Fairbanks came across this post, and together with her group of almost 2000 inspiring and wonderful women from L.A. ('a positive, anti-bullying, coconut oil advocating, connected, shameless, beautiful lady cult of awesome') she decided to try and track this man down to extend him an invite for an amazing dance party. Before starting her search, she did carefully decide that the extra attention would not bring him more embarrassment after seeing the outpour of support for the dancing man. Soon the hashtag #finddancingman was created and went all over Twitter.
After about 11,5 hours a photo showed up with a possible sighting of the dancing guy, and a few hours later it was confirmed that they had found him. Sean from London proved to Cassandra that he was indeed the dancing man she was trying to find and said was happy to accept the invitation.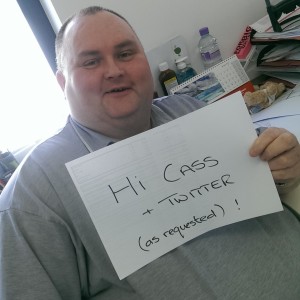 Fairbanks tweeted about the overwhelming positivity that Sean and her cause was getting. Above all, she and her group of women wanted to send the message that bullying is never OK, online or offline. "Everyone should be able to dance and have a nice evening without cruelty, and we are awesome at parties," she said. They now have a huge and amazing dance party to throw. "Watch out LA!" Sean asserted. A funding page was created to fly Sean from London to L.A. in a few weeks to have the best party of his life. In less than a day, the crowdfunding page has raised already more than the goal of $20000, and any proceeds not being used for the flights and the party will be donated to an anti-bullying campaign.
Despite this cruel attempt to shame an innocent man, at the end of the talk between Cassandra and Sean, he said, "Big-hearted people far outweigh the small minded, every day of the week."
—————————————————–
Liked this post? Don't forget to like The Curious Butterfly on Facebook too! Thank you!