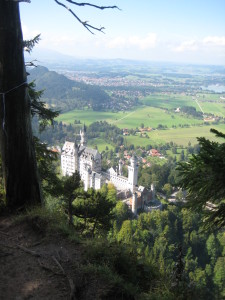 Also this year I had a lot of fun working as a tourguide in the beautiful Bavarian Alps with Neuschwanstein Castle as the main focus. And also this year I wrote down some funnies about my days as a tourguide. Here's part 1 for the Diary of a tourguide 2014!
Diary of a Tourguide, April 21st:
Dear Diary, first working day of the season, and it went great. It was a fun group of people and I had a little 6-year-old girl and her 3-year-old brother from Abu Dhabi as my first fans of the year. High fives and holding my hand all day long and enormous hugs as we had to say goodbye at the end of the day. The girl said she wanted to stay with me, because else she would miss me so much… Awwww……
Diary of a Tourguide, May 12th:
Dear Diary, today we had an awesome group. Lots of smiling faces throughout the day. And I just can't believe how lucky we were with the weather today! The bus was going to be a bit late due to construction on the road, and as I was waiting for it to arrive, there was a complete downpour! I quickly went to grab some ponchos to sell and didn't look forward to the upcoming bike ride in this rain. But, as fate would have it, the bus was just delayed enough until the rain stopped and the sun came out! It turned out to be a gorgeous day! Enjoying those sunny days as much as I can, since apparently there is snow predicted for later in this week… yikes!
Diary of a Tourguide, May 22nd:
Dear Diary, sometimes, when you think you've had all the curveballs in the book, the work throws some new ones. People changing their minds a couple of times, do they want to do one castle, or two, or no, just one please, it's not easy getting it right when you need to get the castle tickets ahead of time… A chain flipping off the bike so weirdly, that I had no idea how to put it back on… Then, as I did the waterfall gorge hike today and was almost at the beginning of the beautiful part of the hike, I bumped into a few schoolkids, telling me the hike was closed. Yeah right, nice try kiddo, but I won't fall for that… 1 minute later, oh, yes, the hike is indeed closed…. apologized to the group, but we had to turn around, take a different, more steep route after a detour (no people, don't worry, the regular hike is just as steep… really…). (Anyway, apparently some rocks had come falling down, good that it didn't happen as we walked there!) But, then at the end of the day, the group surprises me by tipping so well!!! Made the curveballs worth it…
Diary of a Tourguide, May 30th:
Dear Diary, today we had a couple on our tour, both in their late sixties. They just sold their house in Australia, bought a new smaller one and decided to go traveling around Europe with the extra money they have now, a life long dream. They did the full bike ride, the walk up to the castle and the tour inside, and had a great day, despite the rainy weather. Such an inspiration: It's never too late to live the life of your dreams!
Diary of a Tourguide, June 3rd:
Dear Diary, today we had a woman on the tour who went paragliding. I asked her afterwards how it was and she answered: it was… spiritual…. And then she smiled. I was a bit puzzled, since most reactions are: awesome, best thing ever! Later I heard that she had lost a son, and it made me realize that she probably felt close to him, while floating around, high up in the sky…. ♥
Next week part 2 will follow. Want to read some more diary entries of this Tourguide? Click here for last year's Diary of a Tourguide.
—————————————————–
Liked this post? Don't forget to like The Curious Butterfly on Facebook too! Thank you!