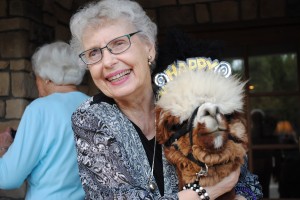 Ever since I found out about Rojo the Llama, I loved the whole idea of such a lovely, soft, woolly animal lighten up ill and older people's days. But, it's not just for the ill and elderly to have their days brightened, so I decided to share it with you as well!
Rojo the Llama, and his llama-friends Smokey and Beni and alpaca friends Napoleon, Jean-Pierre, Eduardo and Andre, are therapy animals. They visit people in hositals, senior communities, rehab-centers and schools, sometimes even being decorated to a festive theme, like Christmas or Valentine's or any party theme. How wonderful must it be, if you're in a senior center and a llama dressed up with hearts and 'be mine'-robe comes by to wish you a Happy Valentine? Or when you're fighting some illness and to be able to hug such a loving creature?
On how Rojo became a Therapy Animal: I had thought about taking Rojo into adult-care facilities, and schools before, and had actually taken him to a couple of schools with our 4-H leader, but was concerned about insurance issues should we take him off the farm by ourselves. Certification, she told me,  would allow us the freedom to take him just about anywhere, and we would be covered by the insurance DoveLewis provides for animals in their therapy program.)  As I was considering this possibility the following day while we were still at the fair, a woman came by the llama area, pushing her sweet little boy in his wheelchair. The boy must have been around 7 or 8 years old, but he had no hands or feet, only the rounded ends of his little arms and legs sticking out of his t-shirt and shorts, and I could see his little bald head under his sideways baseball cap. I assured her that Rojo was totally safe for her son to pet, and so she pushed him right up, almost into, Rojo's chest hair. As that little guy twirled his arms into Rojo's fiber, his face lit up with a huge smile, and he shouted "Mama, I petted a llama! I petted a llama!" It was at that moment that I believe God placed in my heart a "calling"  to share Rojo through Animal-Assisted Therapy. We had been given a special "gift" in Rojo, and now we need to be responsible and obedient to share this special gift to bless the lives of many others. We had no idea at that time, just how incredibly exciting, and rewarding, this experience would be!
Since their certification of Rojo, there have been over 800 therapeutic visits, and of course lots and lots more happy smiles. Let's add your smile to it:
Anyone ordered three unicorn-llama's?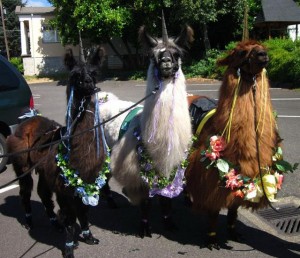 Always smiling faces where the llama's go…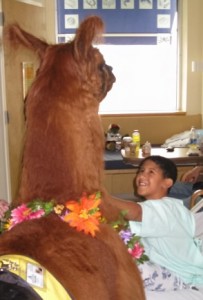 This picture says it all: she found happiness from a furry hug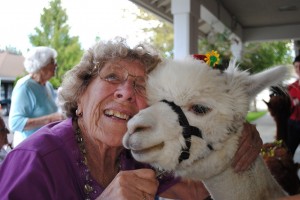 The expression on the llama's face: 'I know I look a bit silly, but look how happy I make this lady…' 😉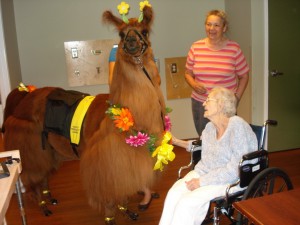 Photos and information from www.rojothellama.com. For more information, more happy photos and how to donate to this great cause go to Rojo's website.
—————————————————–
Liked this post? Don't forget to like The Curious Butterfly on Facebook too! Thank you!