When I think about my lunchbox: a simple white box with room for 4 sandwiches and had an elastic band around it, to make sure it stayed closed in my schoolbag. Some sandwiches with cheese, some with chocolate sprinkles or jam, some with lunch meat; a bit of a mix every day. Most of the times with wheatbread, some times with white bread. Nothing too spectacular.
Though my lunchboxes were always prepared with love by my mom, I can't help but feel a little jealous of this girl's lunchboxes, prepared by her dad. I mean, just look at these works of art!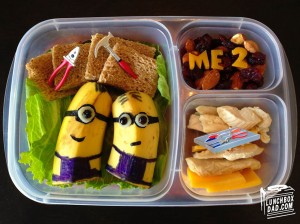 Nothing despicable about this!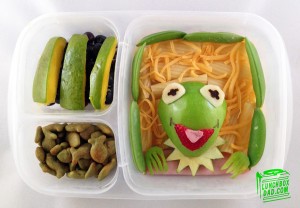 It's easy eating green, when it looks like this!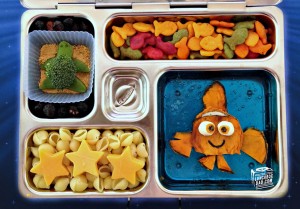 Found Nemo! And it tastes gooooood…..
Beau Coffron from San Francisco is the Lunchbox Dad (you can click on the name to go to the link, the guy has a book and shares his 'recipes') and his daughter Abby the (no doubt) very happy receiver of these tasty and healthy lunches!
—————————————————–
Liked this post? Don't forget to like The Curious Butterfly on Facebook too! Thank you!