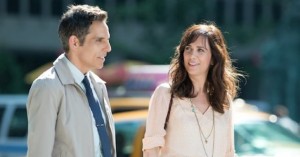 The movie The Secret Life of Walter Mitty is about a day-dreamer (played by Ben Stiller, who also directed the movie) who works at Life Magazine. He escapes his life by "zoning out": day- dreaming into a world filled with adventures, heroism, romance and action. Walter has a big crush on a coworker, Cheryl (the awesome Kristen Wiig), but is having trouble sending her a wink on an online dating site. When he calls customer service, he learns that it's his blank profile, stemming from his life that has nothing 'noteworthy or mentionable', that is holding him back. He does have his daydreams, but they are, unfortunately, not real.
When his job along with that of his co-worker are threatened, a couple of catalysts make that Walter decides to take action. An empty old journal he once got from his late father, his love interest who is looking for an adventurous and brave man, and most importantly: a missing negative from the photojournalist Sean O'Connell. Walter embarks in the real world on a global journey that turns into an adventure more extraordinary than anything he could have ever imagined.
Curious? See the trailer here.
I really enjoyed watching this movie. The moments where Walter zones out are over-the-top bizarre, but later on in the movie his adventures will make you wonder: what's real and what is just Walter's crazy dreaming? It will make you giggle, when also Walter figures out that it's all really happening. There are a couple of very funny moments throughout the movie, too weird to be true moments. Trust me, you'll be laughing out loud. And even with the extraordinary adventures Walter has, the movie has a very realistic feel. The conversations are real, they cannot find all the perfect words to say at the right time, but mumble and stumble trying to find what they really wanted to say. The movie is not a Hollywood blockbuster with all the glam and expected moments, but an indie movie that leaves you wondering about your own life. It's great to see what can happen when you get out of you comfort zone, and go on the adventure called life. There are a lot of little catalysts that can set your life in motion, into the direction of your dreams, just as long as you pay attention to it and listen to your gut instinct.
Stop dreaming, start living, a motto that I'm trying to live by as much as I can. What's the point in keep on dreaming and fantasizing, if you can also go out there and live the life of your dreams? The movie shows that there is someone inside every person, ready to take on extraordinary adventures! Go for it!
With an adventure-story about going into the unknown, this movie, as Walter's online dating customer service guy (played by Patton Oswalt) says, is both "noteworthy and mentionable."
A few quotes from the movie:
'I wanted to tell you, that song "Major Tom" and that beard guy… he doesn't know what he's talking about. That song is about courage and going into the unknown. It's a cool song.' (Cheryl)
'Beautiful things don't ask for attention.' (Sean O'Connell)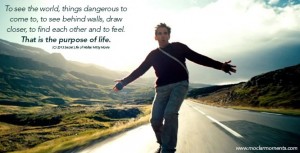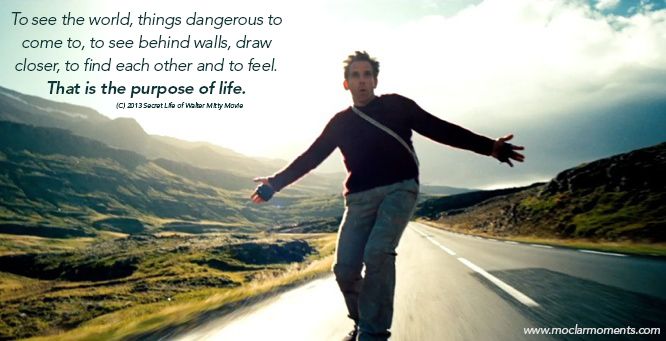 'To see the world, things dangerous to come to, to see behind walls, draw closer, to find each other, and to feel. That is the purpose of life.' (Life Magazine's motto)
———————————————————-
Liked this post? Don't forget to like The Curious Butterfly on Facebook too!