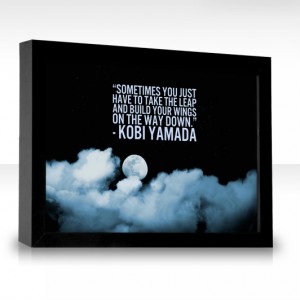 Sometimes in your life everything is going as it is going, everyday same old, same old. You're getting used to how things go in your life, and you are fine with that. Until you're not…
You decide that the job you are doing is not the job you want to keep doing. The relationships you have keep ending and you don't want to get into a new one until you know what you want, until you know who you are…
That was me, about 7.5 years ago. First I applied for a new job, I got 3 very good job offers with great pay, but I decided to turn them all down. And instead of hanging on to the last relationship that ended, I dediced to choose for myself, to do something for myself.
So I decided to go on a world trip, by myself. And that was one decision that I never regretted.
I just took a leap, one that I needed to do, one that I wanted to do, one that was pretty damn scary, but I did it nevertheless. I had never traveled by myself before, so booking a one way ticket to Hanoi Vietnam was the first scary leap. I got the right visa for a few countries I wanted to visit, got all the vaccinations and malaria tablets, and I decided just to make the most of it, however scared I was.
And yes, the first few days I was lonely. All by myself on the other side of the world, where nobody knows me, where I stand out a lot with my tall blonde physique. I thought to myself 'Okay, then I'm just going to see the countries I have a visa for, and stay a maximum of one week in each.'
Little did I know that I thought completely different just a few days thereafter. I went on a few three-day-trips, met lovely Australian families who invited me into their house 'when I would be traveling to their country' – even before they knew my name! – and got the hang of staying in hostels and meeting people from all over the world. I went to see a lot of different places in south east Asia, helped in an orphanage for a few days, worked and traveled in New Zealand, worked and traveled in Australia (and stayed with my new friends there), did an incredible road trip of 30.000 kms all over Australia with a new friend and finished off my world trip with a few weeks in the States. And my 'just a week in each country' ended up becoming a 18-month trip around the world.
So yeah, I closed my eyes, took a leap and enjoyed it thoroughly. I made the most of it, and never looked back. It truly changed my life in more ways than one.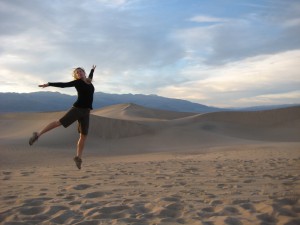 Sanddunes, Death Valley
And what is your leap? What did you do? Or will you do?
——————————————————–
Liked this post? Don't forget to like The Curious Butterfly on Facebook too!