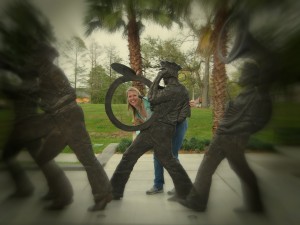 6 years ago I was in New Orleans for the first time and my love for that city started right there and then. The music sounding everywhere, the food, the pretty buildings in the French Quarter, the people… Even just booking a city tour ended up for me chatting with the old guy who sold me the tour to me for over an hour, about traveling, life and what not.
As I traveled by myself then, I had to also go out by myself, so I went to the French Quarter. Well, what's a good choice to go to if you're by yourself? How to prevent you're not walking into some dodgy bar where everybody is going to stare at you as soon as you walk in? A karaoke-bar! Fun entertainment, happy people, can't go wrong! As I was standing in the Cats Meow, enjoying all the wonderful, and not so wonderful, singers, I was invited by a group of women to hang out with them instead of standing alone. Sure, why not! After the karaoke we went dancing somewhere else and some deep friendships were formed. Only in New Orleans…
So when I decided to go back to the States 2 years ago, of course I had to go visit my friend there. And see the lovely 'Nawlins' again! After eating a delicious po-boy and catching up, my friend told me she organized a Happy Hour the following day. As I met a lot of new people that evening, it never feels like you're meeting strangers. In New Orleans you always see friends you haven't met before! And the evening after the Happy Hour we had a Crawfish Party where one of my new friends had made me a sash with Miss Netherlands on it. Only in New Orleans…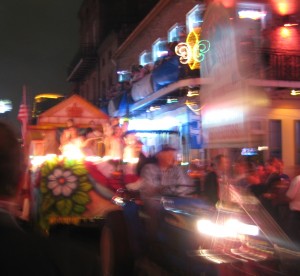 Yet another parade…. and reason to wear the sash!
And the sash had so much use there too. In the Netherlands I think people would be wondering which institution I wandered out of, but in this city there is always a reason to wear a boa-feathered sash. A parade, another parade, a tacky party, a pub-crawl, or just to have a cup of coffee or go for a run. Only in New Orleans…
And even on the following leg on the trip, to San Antonio, the taxi driver asked me where I was from and why I was here. I told him I was traveling around for a bit and that I just arrived from New Orleans. He then exclaimed: 'That's where I'm from!' I said I love that city and he gave me a big hug as he dropped me off. Awww… You just gotta love New Orleans, but most of all its people… So happy, friendly, welcoming… I'm looking forward on going back there again one day!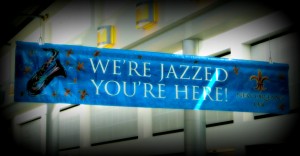 ——————————————————–
Liked this post? Don't forget to like The Curious Butterfly on Facebook too!