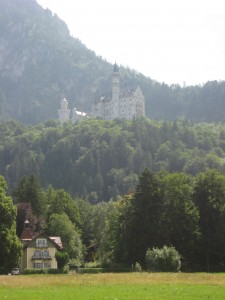 Haven't read Diary of a tourguide 2013 – Part 1 yet? Read it here! Go on, I'll wait….
Okay, finished with part 1? Then here is part 2:
July 2nd:
Dear Diary, today we had an Singaporean girl on the tour who could do some awesome tricks with the bike…. o_O Seriously, while biking she could give the handle bars a 180-spin, flip her bike sideways, and then, most importantly, crash into other people. I asked if she wanted to keep on biking or rather have a cup of coffee and relax at the restaurant, and the answer was yes. I warned everybody around her to keep their distance… It's a miracle that she survived… And that we survived… I also had to get another bike back to the garage without being able to bike on it for about 3 km / 2 mile. The gear-thingy at the back flipped a 180 (I blame the Singaporean girl…), the chain got loose and could not be repaired at the spot…. It was a long way back, walking next to the bike, sitting on the seat while running with my feet on the ground etc… Ah well, thank goodness the sun was shining!
July 4th:
Dear Diary, today I had such wonderful people on the tour. One couple told me that they really wanted a good photo with them and the castle in the background. I told them that the best photo-opp would be from Mary's Bridge. Afterwards I asked if it worked out, and yes, they got the photo. They told me why they really wanted that photo. This year they're married for 40 years. On their honeymoon 40 years ago, they went to Austria and planned a trip to Neuschwanstein. Unfortunately that got canceled, and now, after 40 years, they finally got to go to the castle! Another lovely couple kept on thanking me for all the little things. I pointed out some nice photo-opportunities, I didn't mind they were biking a bit slower to enjoy the ride more, and they were lovely to chat to. At the end of the day, everybody was at the bus as I walked up to it, they were walking slowly back towards me. I thought they lost something or so, so I asked that. 'Oh no, we just wanted to thank you for such a wonderful day. So: Thank you very very much'.
July 5th:
Dear Diary, today we had a sweet 4-year old boy on the tour who was excited about everything. Like the fact that he could pedal backwards on the tag-along bike without hitting the pedal-back-brakes. No buddy, there are no brakes on that thing, your mom will do that for you in front of you, but I'm happy you're happy. Oh and there were a few people on the tour who had lived in the Netherlands for the past 3 years, and told me how much they liked the stroopwafels (syrup waffles) from the Albert Heijn (a supermarket). That reminded me of the 'Zakje'-sketch of John Fealey. Check it out over here.
July 8th:
Dear Diary, today we had an 80-year old lady on the tour from Argentina. Oh whoops, sorry, I have to say 4-times-20-year old lady… It wasn't easy for her to get to the castle, we took the bus up, walked down to the castle and then in the castle she had to walk another 4 flights of stairs up, and down again. After the tour inside the castle she was very tired, so we took the horse and carriage back to our own bus and she was happy she didn't have to walk anymore to get back to the bus. She apologized for letting the bus wait, but I said: 'No problem at all, I hope that when I am 4 times 20 years old, I am still doing trips to the other side of the world!' Got a big hug from her and I let the bus give her a big round of applause!
And click here for Diary of a tourguide 2013 – Part 3!
——————————————————–
Liked this post? Don't forget to like The Curious Butterfly on Facebook too!