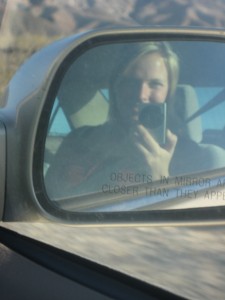 'Whaaaah, I look horrible in that picture, take it away, delete it!' A comment we all recognize. Yes, you have probably said it yourself once. But how many times is this comment sincere? Do we say it to get compliments or do we really dislike the photo? Maybe we look at our own images with a different view.
How often do we see ourselves with a different set of eyes, literally and figuratively, than somebody else does? Does it depend on how we feel or is it because we enlarge our own weaknesses immediately? 'Geez, look at that muffintop there' or 'My hair looks horrible'. When do we let our negativities and weaknesses for what they are and emphasize our strengths?
I have noticed it already a couple of times that within a day I liked the way I looked and completely washed out, and it didn't include a rainshower in between. One day I think: 'wow, I look good' and the following day it's 'no thanks, no cookie for me'. Was it because I looked into another mirror? Was I standing in a different, more flattering light? I do kow that some mirrors are slightly leaning back that makes us look taller and slimmer, and certain colors of light make you look more beautiful, but still. Was then maybe my own perception of my appearances different?
Maybe others see our true beauty – our inner beauty – before we do. That beauty that comes from within, and our view on our beauty as well. So know that you are always beautiful, even if you are feeling a bit down. Look at yourself with the right set of eyes and appreciate your beauty. Take compliments serious, thank people for giving them to you and start to see it for yourself as well.
You are wonderful and beautiful!
Originally published in Dutch on Femmezine.nl.
——————————————————–
Liked this post? Don't forget to like The Curious Butterfly on Facebook too!