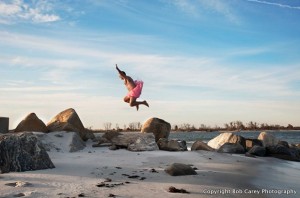 Some men are just the best husbands in the world – ever! Take this guy for example: the photographer Bob Carey. After his wife, Linda, was diagnosed with breast cancer and had to go through chemo therapy, he began to take ridiculous photos of himself in a tutu, just to make her laugh.
"When Linda would go in for treatment, she would take the images on her phone and the women would look at them and it would make them laugh and make the time pass," Bob said. Linda said the other women appreciated that Bob was standing out in order to stand by her.
Bob decided to start The Tutu Project, to raise awareness and funds for women with breast cancer. On that website you can also see some video's and some more Bob-in-Tutu photo's. To make you laugh and appreciate what a wonderful hubby he is to Linda.
"Oddly enough, her cancer has taught us that life is good, dealing with it can be hard, and sometimes the very best thing — no, the only thing — we can do to face another day is to laugh at ourselves, and share a laugh with others."