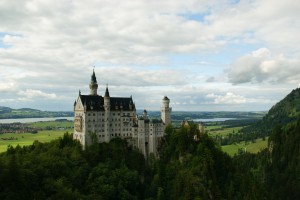 I work as a tourguide in the summer around Neuschwanstein Castle and I always have some funny stories to tell. Here is my Diary of this past year, part 1.
May 4th:
Dear Diary, back to work today. Before you get too sad for me, I get to bike and hike around a gorgeous Alpine landscape and a very pretty castle. Before you get too happy for me, there is some rain predicted for today….
May 6th:
Dear Diary, today I was totally trying to find the right words in Dutch when I had to explain something I always explain in English since we had some Dutchies on the tour today… As I was saying it I was seriously thinking 'What the *bleep* am I saying now…? Is that even a word in Dutch?' and I'm sure they were thinking that too… ~itcanbeabitconfusingbeingmultilinguisticsometimes…
May 15th:
Dear Diary, today I was on Mary's Bridge, with the great look out to Neuschwanstein Castle, and an old lady (about 75 or 80) asked me if I could take a picture of her and her husband. So yes, of course. After I took the pictures, she asked me if she needed to take my photo. 'No, it's okay, I come here every day, I'm a tour guide.' So I wished them a good day and walked over to the people of my group. The woman then followed me and gave me a euro, the 'old lady'-way with a pat on my hand, and said 'Thank you very much.' How sweet is that!
May 22nd:
Dear Diary, it's gonna be another fun day out in the cold rain with 50 tourists biking around…. Well at least it's not snowing. Yet… That will only be here on Friday…. Whaaaaah!
June 1st:
Dear Diary, "Life is not about waiting for the storm to pass, it's about learning how to dance in the rain." ~nowIhavewaterinmyshoes…..
June 8th:
Dear Diary, today was a bit of an emotional workday…. It started with a bit of a mix up of having two families needing a bike with a kids seat and we only have one… And two kids from two families needing the smallest bike, and we only have one… We came up with a solution that one family, who needed both the bike with a kids seat and a small bike, would stay behind with me (so they would get a bit of a private tour that way) and Brad did the regular bike ride with everybody else. Then I found out that the mother is terminally ill cancer patient… In the end they had an amazing day, did the alpine slide with nobody in the way, had a relaxed lunch, had a relaxed bike ride with me as their personal photographer (and I took loads of photos for them), and no rush of having the rest of the group around. They absolutely loved the day and they are such a wonderful family… I'm so glad I could make their day out to Neuschwanstein one to remember, with lots of photos for the memories… I'll never forget Amy, Tim, Luke and Elly-Grace…
June 27th:
Dear Diary, today, at the end of a rainy working day, I walked down from the Castle to the bus with two ladies, one of them had a sore and taped up ankle and I had barely seen them all day since they did a slightly different tour than normal. I told them there was no hurry, the bus would wait for them, and chatted with them for those last 10 minutes of the day. Just before we got on the bus, the lady with the sore ankle quickly stuffed some money in my hand, 'This tip is just for you, thank you so much for your kindness'. So sweeeeeeet!
June 28th:
Dear Diary, today I made friends with a 3,5 year old girl from India. In fact, she was so fond of me, that she kept on asking her parents where I was when she was in the castle (I don't go in the castle anymore, I've seen it enough times already)… I also biked up a hill at Tegelberg while pushing a tired 6-year old boy from Seattle on his bike up the hill, and got two bugs in my right eye (I forgot my sunglasses at home) while doing so… Thanks Karma, thought I was doing a good thing there… Ah well, just another day in a tourguide's life…
Click here for Diary of a tourguide 2013 – Part 2 and Part 3!
——————————————————–
Liked this post? Don't forget to like The Curious Butterfly on Facebook too!