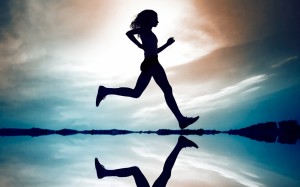 As I'm running outside in the winter to stay fit, I love to have something warm and healthy after the run (and the stretching, don't forget the stretching…). My favorite? A nice fresh made soup! And it's very easy:
A can of lentils with 'soup-vegetables'
Frozen broccoli
Stock cubes (or salt and pepper and other spices you like)
Put all ingredients in a big pot and boil (and stir it a bit of course) until it all cooks (I like it when the broccoli is not too overcooked). Then take it off the stove, blend it all with a hand blender (immersion / stick) or put it carefully in a normal blender to mix it all. Yeah, the lentils give it a bit of an icky color, but it tastes great! If you like the soup a bit more watery, put some more water in. Else you have a nice thick meal-soup.
If you want to you can also add any other fresh vegetables in, like kidney beans, paprika (pepper bells), soft carrots (from a jar or can), sweet corn, zucchini, onions, peas. Experiment and try what combinations you like best. I do recommend to put in lentils or kidney beans, just to have nice and healthy protein and fiber base for your soup. After blending, you can also put some ready-to-eat turkey or chicken strips in the soup if you feel like it.
See, even after a cold run or walk in the winter, you can warm yourself up again with a healthy meal soup. Enjoy!
———————————————————
Liked this post? Don't forget to like The Curious Butterfly on Facebook too!