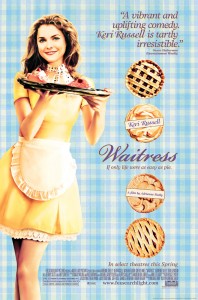 I just finished watching this little gem of a movie from 2007, Waitress (and I blame some damn little onion cutting ninja's for making my eyes go all moist and so…). I don't know why I only discovered it now, but I'm glad I did. A touching, realistic (no Hollywood glam of the usual romantic drama-comedies) story of Jenna whose life is all but easy. Being in a marriage she does not want to be in, she finds out she's pregnant. She's still planning to leave, but as usual, life gets in the way. Luckily her co-workers, Becky and Dawn, and the owner of the pie-shop she works in as a waitress, Joe, give her some distraction, just like the new doctor in town, Dr Pomatter.
The touching part comes also from knowing that the writer and director Adrienne Shelly (she's Dawn in the movie too) unfortunately passed away before the movie even came out and never got to see the magic this movie brought to the screen. Little more info: her real life daughter plays Lulu (and I'm not gonna say who that is) and the goodbye at the end makes it so bittersweet.
This movie is quirky, funny at times, odd at other moments… If only life were as easy as pie… Just go and watch this.